Skip to end of metadata
Go to start of metadata

Note The Group Booking module must be purchased in addition to the BookingCenter base system. If you did not purchase the
Group Booking module as part of BookingCenter , then simply disregard this section as these functions will be disabled.
Click on the Group Bookings button on the Home window, select Group Bookings from the BookingCenter menu or Ctrl +
7 to display the Group Bookings window.
Individual bookings that com- prise the Group Booking are listed in this section of the win- dow. Double clicking on any bookings listed here will open the Booking Details window with the details of chosen book- ing loaded for review.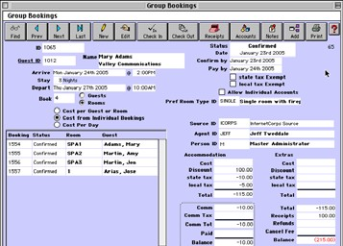 #trackbackRdf ($trackbackUtils.getContentIdentifier($page) $page.title $trackbackUtils.getPingUrl($page))