This sets up your own travel agents, network agents who book directly with you, or your website agents.
? Click on the Agents button on the Home window to display the Agents window or choose Agents from the
BookingCenter menu.
Note The following agents are pre-entered in the system for online bookings:
• BookingCenter Member's Area (Agent BCM)
• Global Booking Network (Agent WR and/or GDS) )
• BookingCenter (Agent BC)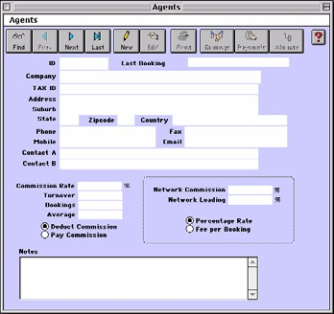 ? Click on the New button or click the Edit button to modify the data.
ID Enter a unique ID to identify this Agent.
Last Booking This field will indicate the date of this agent's last booking.
Company Enter the company name.
Tax ID Enter the tax number of this agent.
Address/Suburb/State/
Zipcode/Country
Enter the Agent's address details.
Phone/Fax/Mobile Enter each of these contact numbers in their appropriate fields.
Emai Enter the Agent's email address.
Contact A/Contact B Enter the names of contacts A and B for this Agent.
Commission Rate Enter the Commission percentage rate for regular bookings for this Agent.
Allocate Button This is a powerful feature for those properties who sell online. Agent Allocation is a feature for allocating
a percentage of your rooms at selected rates to your Agents. For those properties distributing online, ALL
ROOM TYPES need to be allocated for three Agents - BC, BCM, and WR. You may or may not assign
allocations to your other Agents. To learn more about using Agent Allocations, refer to the
BookingCenter Online Checklist.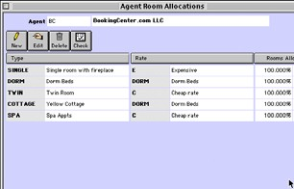 New/Edit/Delete You may create, edit, or delete allocations.
Note Be sure you have "published" your rooms to the Internet (See "Setting up Rooms" on page l)
Tip Each time you publish or unpublish rooms to the Internet, you must "Update Room Counts." Do
this by going to Parameters | Booking System | Types and clicking on the 'Types' drop-down menu
in the upper left hand corner. Select "Update Room Counts."
Check Click this button to easily and quickly allocate 100% of the rooms of a room type to each agent. The
default rate for each Room Type will be used and 100% of the published rooms of each room type will be
available for Online bookings.
? Click OK to save your allocation.

#trackbackRdf ($trackbackUtils.getContentIdentifier($page) $page.title $trackbackUtils.getPingUrl($page))